Rhode Island State Symbols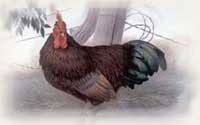 Rhode Island Red
State Bird
Adopted on May 3, 1954
The breed of fowl, commonly known as the "Rhode Island red," is designated, and shall be known as the official state bird.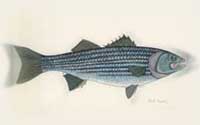 Striped Bass
State Fish
Adopted on July 13, 2000
The State Fish is the Striped Bass (morone saxatilis).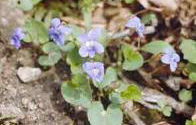 Violet
State Flower
Adopted on March 11, 1968
The flower commonly known as the "violet" (viola sororia) is hereby designated as the state flower.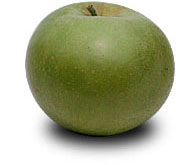 Rhode Island Greening Apple
State Fruit
Adopted on June 20, 1991
Developed in Rhode Island around 1796, greening apples retain their sharp taste in cooking. Their flesh is crisp and colored yellow-green.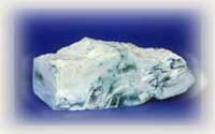 Bowenite
State Mineral
Adopted on May 26, 1966
Bowenite, is a close relative of jade and can be considered a semi-precious gemstone. It is found in northern Rhode Island and was first discovered in the early 1800's by geologist George Bowen.
Quahaug
State Shell
Adopted on June 30, 1987
The shellfish, commonly known as the "quahog" (mercenaria mercenaria), is hereby designated as the state shell for the state.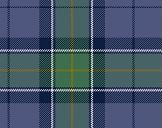 State Tartan

Adopted on July 20, 2000
This tartan was created as a State tartan by the St Andrews Society of Rhode Island Inc. The Society was founded in 1923.
Claire Donaldson of House of Edgar (Woollens) Ltd. / Scottish Tartans World Register: Rhode Island, The State of Rhode Island.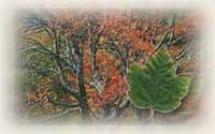 Red Maple
State Tree
Adopted on March 6, 1964
The tree commonly known as the "red maple" (acer rubrum) is hereby designated as the state tree.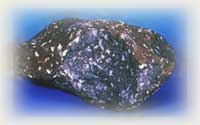 Cumberlandite
State Rock
Adopted on May 26, 1966
The Cumberlandite is a heavy black or dark brown rock with white markings. It is found South of the Town of Cumberland on both sides of Narragansett Bay. It will attract a magnet, and is estimated to be between 1 and 1.5 billion years old.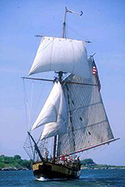 Providence (Replica)
State Tall Ship and Flagship USS
Adopted on May 28, 1985
History comes alive aboard the Continental Sloop Providence! This 110' fully rigged sailing vessel is the faithful replica of John Paul Jones' first command. During her distinguished Naval career, the 12-gun Providence sank or captured 40 British enemy ships! She was a square-topsail-gaff-rigged sloop, the first ship commissioned into the Continental Navy and the first command of John Paul Jones. The new Providence is a replica built for the 1976 bicentennial. She has logged over 100,000 miles and is berthed in Providence, Rhode Island. The Providence is the official flagship and tall ship ambassador of the State of Rhode Island and has won the "Best Dressed Vessel" award from the Sailing Ambassador. History of the USS Providence from the Dictionary of American Naval Fighting Ships, Department of the Navy - Naval Historical Center. Providence Maritime Heritage Foundation P.O. Box 1261, Providence, RI 02901 Tel: (401) 274-7447 e-mail: info@sloopprovidence.org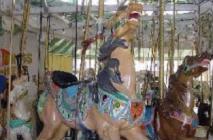 The Charles I.D. Looff Carousel
State Symbol of American Folk Art
Adopted on May 28, 1985
Also known as the Crescent Park Carousel in East Providence is all that remains of a large Victorian-era amusement park, which gave way to suburban development in the 1970s. Today, the carousel is a park by itself, as it still attracts visitors throughout a good part of the year. One of the few handmade carousels still in use, it was designed and built in 1895 by Charles I.D. Looff, a native of Denmark, who was one of the earliest and most important manufacturers of carousels. Still functioning on its original site more than 100 years later, the Looff Carousel is one of the surviving examples of a once common American folk art. It was rescued in the 1970's by a handful of East Providence residents. It was placed on the National Register of Historic Sites and Places on April 21, 1976. In 1985 the Rhode Island General Assembly proclaimed the carousel as the "State Jewel of American Folk Art". In 1987, the Department of the Interior's National Park Service designated the carousel as a National Historic Landmark. A $1 million restoration effort was completed in 1995. The carousel features 56 hand carved wood jumping horses, 6 stationary horses, 4 chariots, a camel, a Wurlitzer military band organ, decorative panels, beveled mirrors, faceted glass jewels, electric lights, and colored sandwich glass windows. Picture and description courtesy of: Looff Carousel at Crescent Park.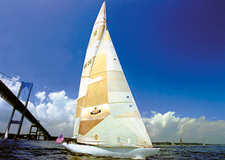 Courageous, US-12/26
State Yacht
Adopted on July 13, 2000
The Courageous is the latest America's Cup contender to come from the design board of Olin Stephens. The Museum of Yachting and The Courageous Foundation announced on July 29, 2002 that they completed the historic restoration of two-time America's Cup winner and Rhode Island State Yacht, Courageous, US-12/26. The yacht, which won the America's Cup in 1974 with Ted Hood at the helm, and 1977, with Ted Turner at the helm, was re-christened and launched as the official Rhode Island State Yacht on Saturday, July 27 at the Hinckley Yacht Yard in Portsmouth, RI.Courageous, one of the world's most distinguished yachts, raced in more America's Cup campaigns than any other yacht in history. Following the donation of the yacht to the Museum in 1997, Courageous was designated as Rhode Island's State Yacht.
State Plate

Adopted on July 8, 1971
Rhode Island's Official License Plate. Nickname is "Ocean State"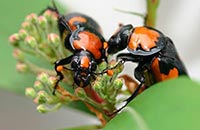 American Burying Beetle
State Insect
Adopted on July 14, 2015
Photo courtesy of Roger Williams Park Zoo.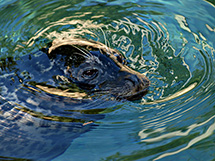 Harbor Seal
State Marine Mammal
Adopted on July 14, 2016
Photo courtesy of Roger Williams Park Zoo.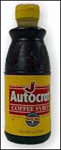 Coffee Milk
State Drink
Adopted on July 29, 1993
Coffee Milk is similar to chocolate milk but is made with coffee syrup. A coffee "cabinet" is coffee milk with ice cream (a coffee flavored milk shake). The main ingredient of this shake is "coffee milk," first introduced to Rhode Islanders in the early 1920's. Coffee milk became so popular in Rhode Island that in 1993 the Rhode Island state legislature voted coffee milk as the official state drink. It's called a "cabinet" because its originator kept his blender in a "kitchen cabinet." Autocrat Coffee Syrup is the preferred syrup in Rhode Island. Autocrat of Rhode Island is a leading provider of premium coffee syrup and coffee extract since 1895.
Calamari
State Appetizer
Adopted on June 27, 2014