Treasures from the Archives: The Dorr Rebellion
A new "pop up" exhibition series at the State House Library will highlight the exceptional holdings of the Rhode Island State Archives. Exhibitions of three to five items will be on view for approximately four weeks at a time. These will include historic photographs, documents, and artifacts that chart Rhode Island's rich and diverse history.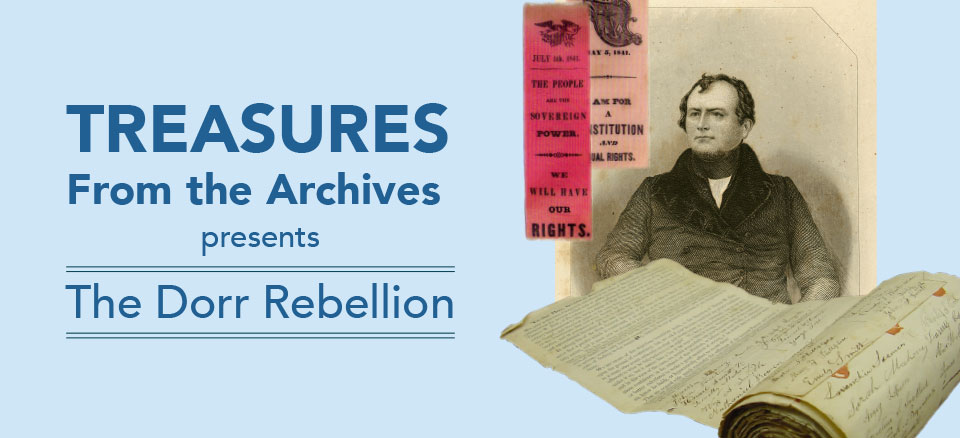 "There's a lot to be proud of in Rhode Island's history. This exhibition series is a great opportunity to encourage civic pride and participation among all Rhode Islanders," Secretary Gorbea said. "The power of having such a rich and robust State Archives is that it serves as our very own time capsule that we can open at any time to see how the actions – big and small – by concerned citizenry can shape our history."
The inaugural "Treasures from the Archives" exhibition features original documents related to the Dorr Rebellion of 1841 – 1842, a part of Rhode Island's history that mirrors the public frustration seen in the 2016 Presidential election. The centerpiece of the exhibition is a remarkable petition to the General Assembly requesting Dorr's release from prison. It was signed by over 3,500 citizens including women, who were ineligible to vote at the time.
About the Dorr Rebellion: Spurred by their growing frustration over outdated suffrage laws, members of the Rhode Island Suffrage Association drafted a People's Constitution in 1841. In a statewide, extra-legal election the following year, they elected Thomas Wilson Dorr as their Governor. At the same time, supporters of the established "Law and Order" government re-elected Samuel Ward King as their Governor, leaving Rhode Island with two competing governments. With neither side willing to compromise, events soon turned violent, and Thomas Dorr was eventually imprisoned and placed in solitary confinement.
The public can also view a larger, more in-depth exhibition on the Dorr Rebellion at the Rhode Island State Archives on Westminster Street. That exhibition will run April 4 – May 27, 2016.