Come visit the Royal Charter Museum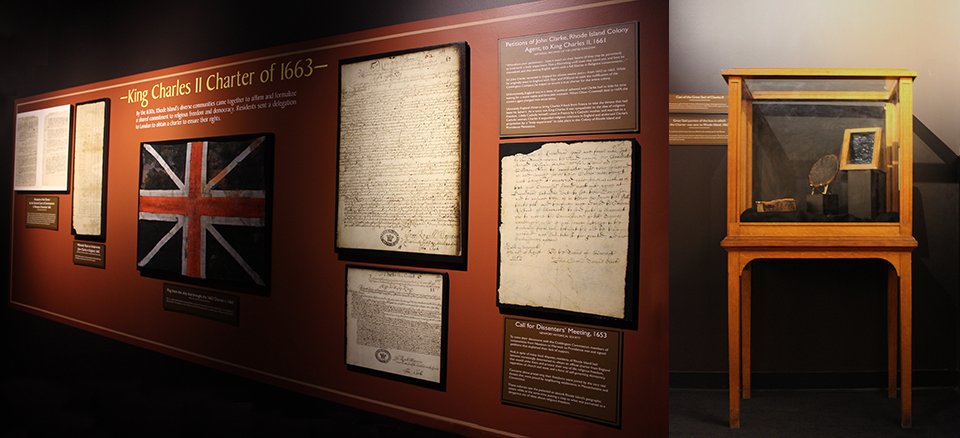 ---
Welcome to the Rhode Island Charter Museum, where visitors can explore our state's remarkable colonial history, and its pioneering role in promoting human rights and religious freedom in the colonies and across the globe. The exhibit within contains priceless documents and artifacts dating back to the 17th century. From the original deed to Providence, to the Royal Charter of 1663, the Rhode Island Charter Museum is a required stop during your visit to the State House.
What is the Royal Charter of 1663?
The Royal Charter of 1663 was a document granted by King Charles II of England which allowed settlers in Rhode Island to govern their own colony and guaranteed their individual freedom of religion. The Charter holds a unique place in the evolution of human rights in the modern world.

When King Charles II granted the Charter in July 1663, it marked the first time in history that a monarch allowed the right of individuals within a society to practice the religion of their choice without any interference from the government. This freedom was extremely radical in an age marked by wars of religion and persecution of people for religious beliefs.

The Charter arrived in Newport, in November 1663 and was read before the General Court of Commissioners meeting there. Through the years, Rhode Island Governors kept the Charter, carrying it to General Assembly sessions at their several meeting places. The Secretary of State took custody of the Charter in the 19th century and moved it to the new State House in Providence when it was occupied in 1900. In 1915, the Charter was housed within a custom-made steel vault and placed on display near the entrance to the Senate Chamber. In 2013, the Charter was moved to its current location in the Rhode Island Charter Museum.
The Charter Museum is free and open to the public Monday through Friday from 8:30 am until 4:30 pm except holidays.