State House - Third floor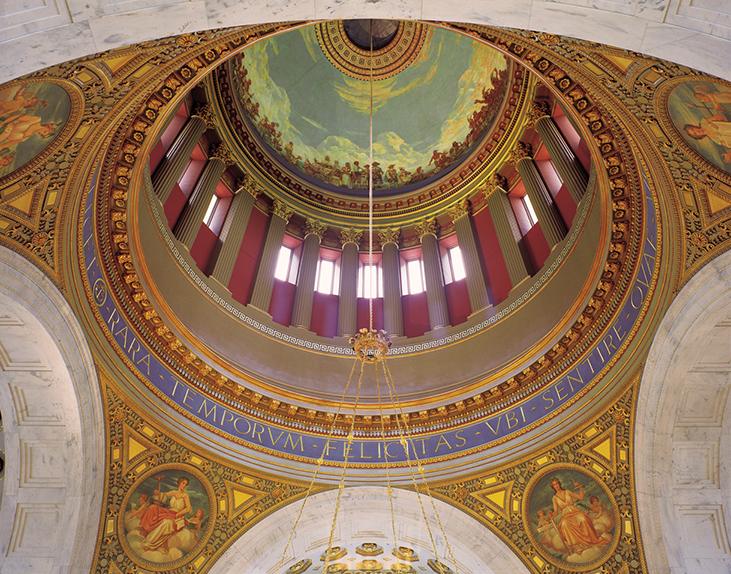 The Dome Interior
More than 100 feet above the rotunda floor, you will see a magnificent mural. A mural is a painting done on a wall or a ceiling, which often tells an interesting story.
James Allen King, an artist from Scituate, Rhode Island, designed this mural. He first painted his idea in watercolors on a large illustration board, then made 12-foot long sketches of all of the figures. You can get the best view of the mural from the third floor.
Perhaps the greatest disappointment of King's life was that he was unable to complete this great project. Illness made it impossible for King to climb 200 steps each day to get to the top of the dome. He gave the original sketches to other artists (George DeFelice, Robert C. Haun, and Victor Zucchi) who completed his work.
King called his mural design "The Four Freedoms". It shows four important aspects of the lives of the early Rhode Island settlers.
Can you find the following four freedoms in the mural?
THE LAND GRANT - Unlike settlers elsewhere, Roger Williams did not take land from the Indians. He respected the Indians and their way of life. An agreement was made between them, and the Indians granted the settlers land on which to build their homes.
RELIGIOUS TOLERANCE - Rhode Island has always been a safe place to worship freely.
PIONEERING AND THE ORIGINS OF CONSTRUCTION -
The settlers enjoyed the freedom to build their homes.
BEGINNINGS OF INDUSTRY - Settlers began trades that would help them support themselves.
---
The Independent Man
On top of the State House dome is a gold-covered, bronze statue called "The Independent Man". It stands 313 feet above sea level and was first placed there on December 18, 1899. "The Independent Man" was designed by sculptor George Brewster, is 11 feet high and weighs over 500 pounds. It is covered with a thin gold covering called "gold leaf". When a statue is covered with gold leaf, it is called a gilded statue. The statue was removed from the dome for repairs on August 9, 1975. Seventy-five years of New England storms, including bolts of lightning, had damaged the statue. It was returned, with a new gold leaf covering, to its watch atop of the State House Dome on July 20, 1976. The Independent Man is a symbol of the independent spirit and initiative which led Roger Williams to settle in Rhode Island in his search for freedom of worship. The Independent Man stands watch over our State Capitol and reminds Rhode Islanders that it is important to stand up for your beliefs. It represents men and women, young and old, times past and present.